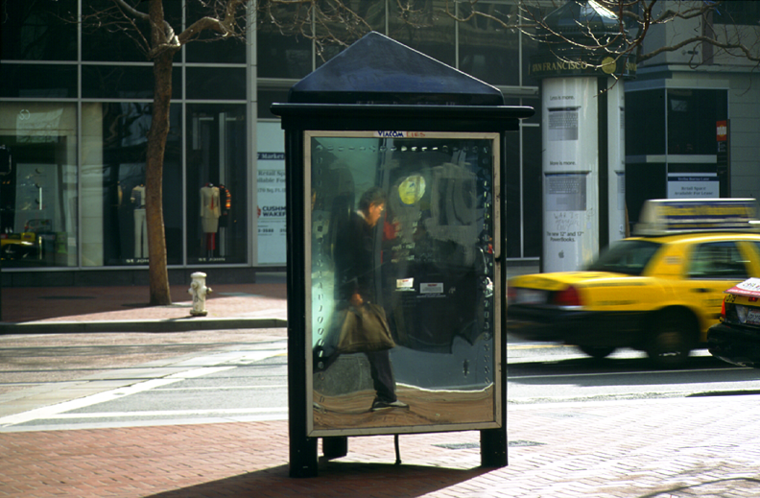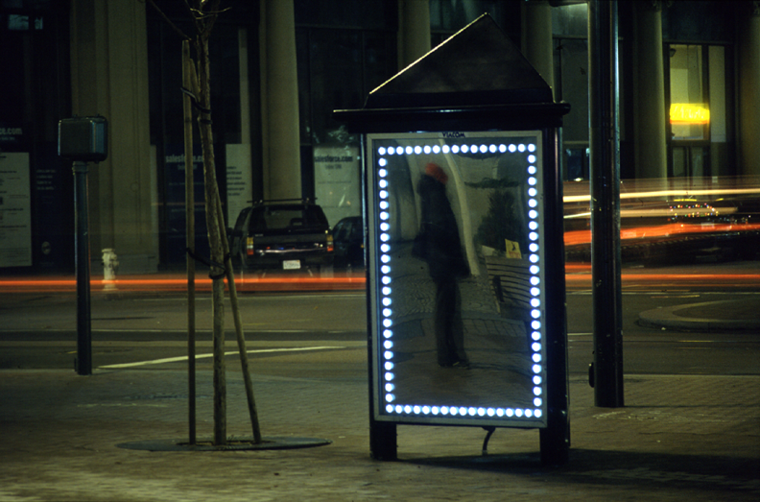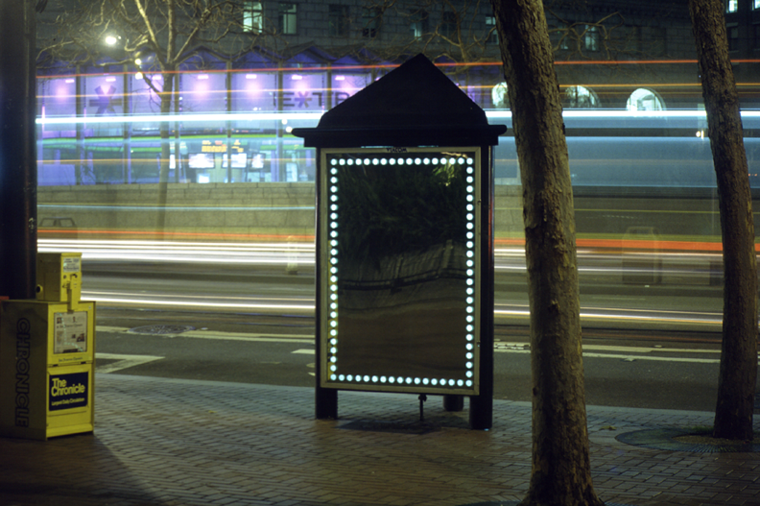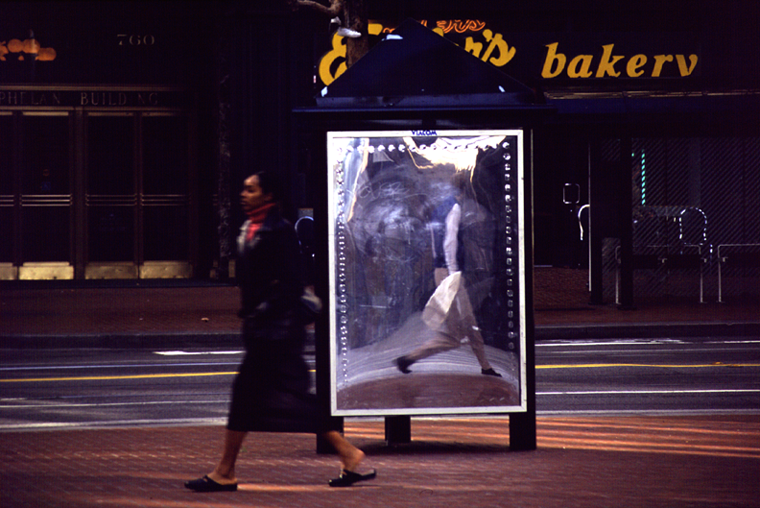 In reply to the question of what defines a hero, the national celebrity, and a spokesperson, Christopher Reeve once said: "To be a hero is to live the everyday life". Inspired by this quote, we created an unusual kiosk series that is literally reflective of everyone that walks past each kiosk. Mirrored panels with the appearance after dusk of lights around the edges evocative of dressing room mirrors made a star of every pedestrian. Emphasizing the theatrical aspect of street life, this series is a metaphor for Market Street as a mirror of the eclectic nature of urban life.
Our idea for this project was to feedback the image of the street to every soul that participates in its vibrant life. 24 poster-objects made of a two-way mirror film transform the kiosks into reflective panels and the Market Street into an interactive podium. Circular perforations [1.5'' diameter] in the rear black plexiglass along the metal frame allow the light from the kiosk to shine trough the reflective one-way mirror film and light up subjects and objects before the mirror during the night.
No other street mirrors the eclectic city life better than Market Street. It is a main artery of the city, where bankers rub shoulders with homeless, waves of tourists mix with streams of busy locals, street musicians make the mood of corners, hipsters meet yuppies, scooters compete with skaters, veterans play chess with messengers, BART intersects with cable car, legends go along with rumors, the past intermingles with the present, stars are down to earth... Utilizing the metaphor of a mirror in a literal sense, the EVERYDAY STARS project is anticipated rather as a complex installation made of 24 similar parts. The reflective surface of the glass cover is an important technical and conceptual part of the idea for the mirror poster-objects.
Market Street, together with its incredibly diverse architecture, infrastructure, inhabitants, and visitors represent a unique cinematic environment where everybody is a star. Evocative of a dressing room mirror, EVERYDAY STARS installation emphasizes the theatrical aspect of the street where the action never stops, and where everyone is a star.