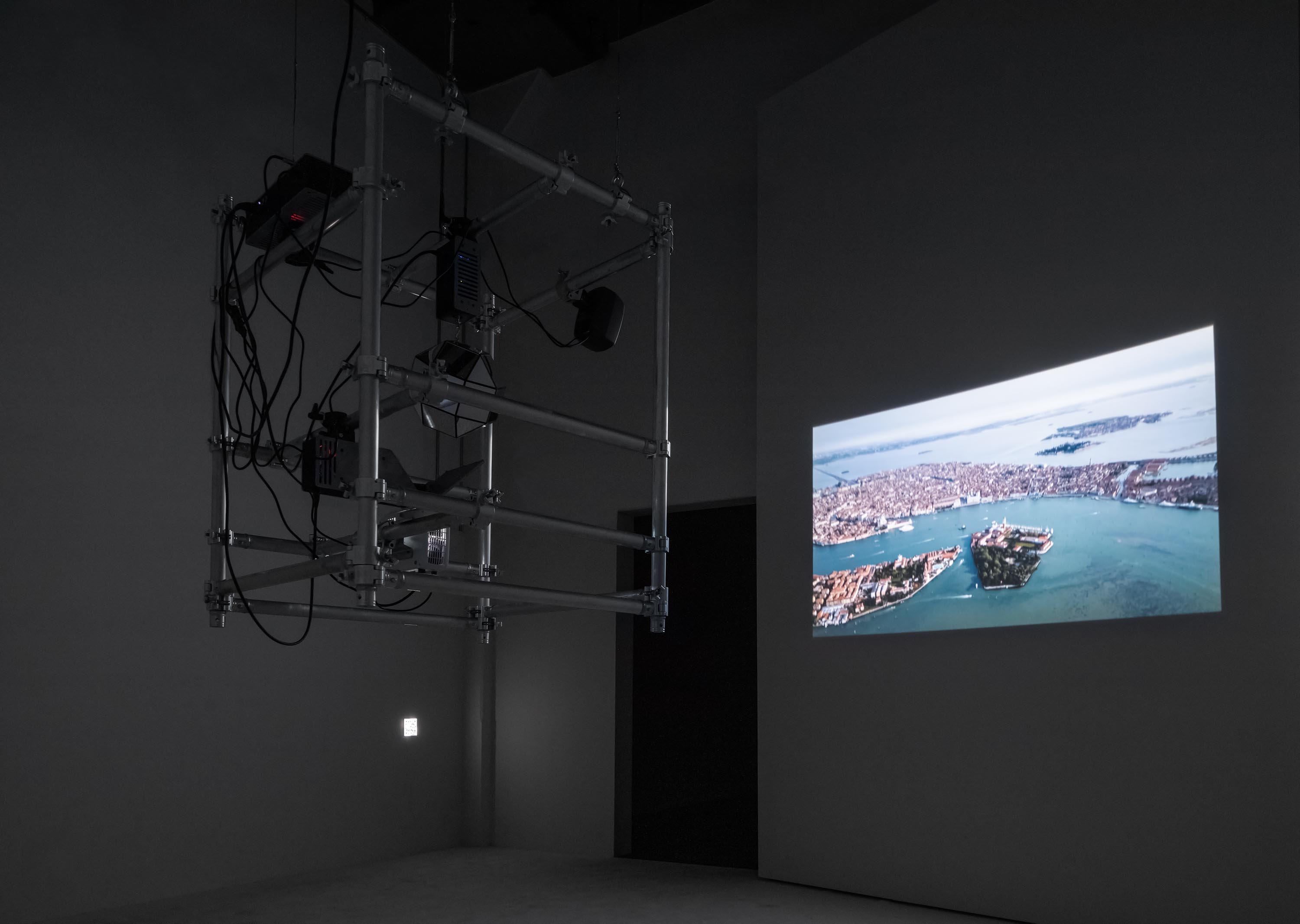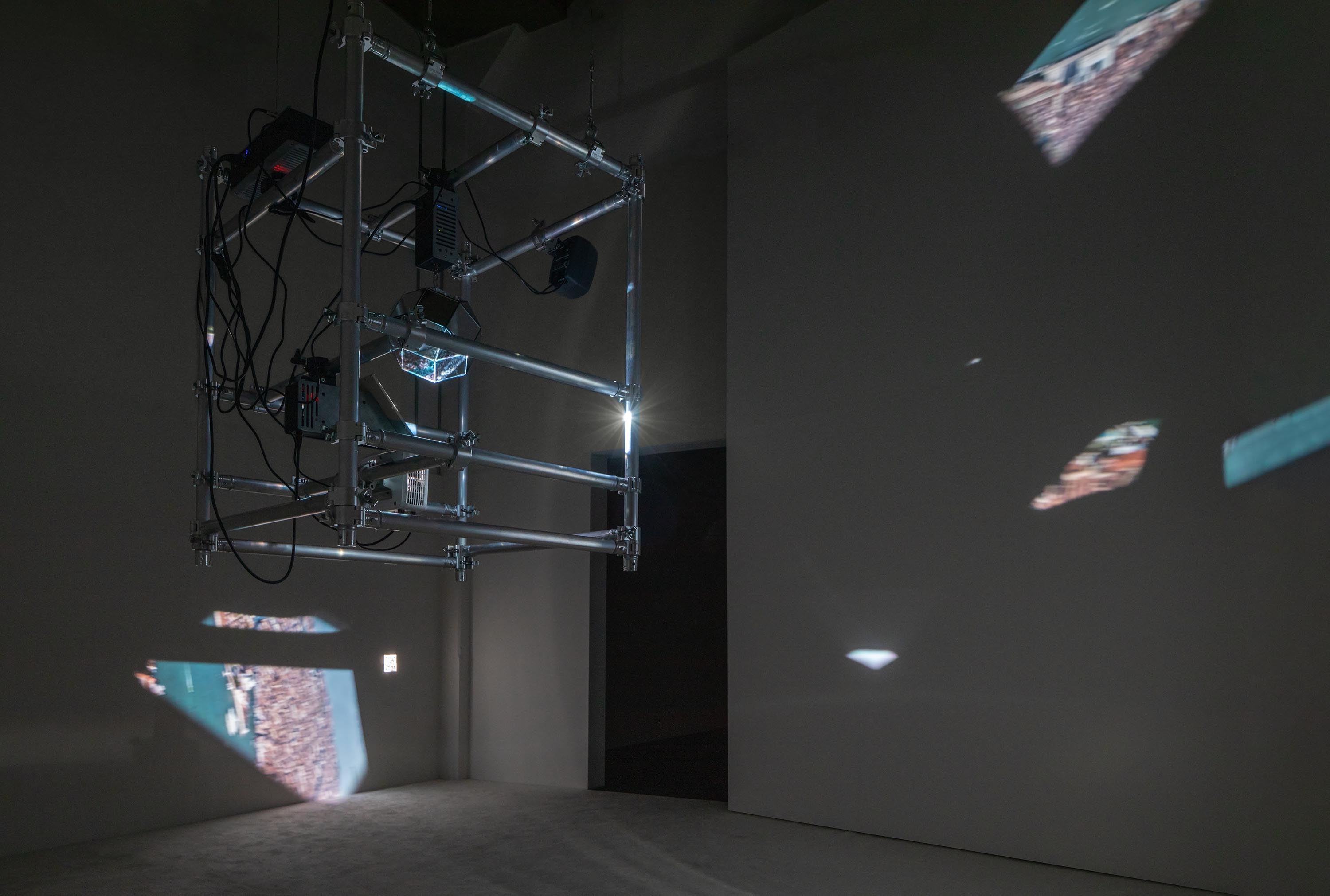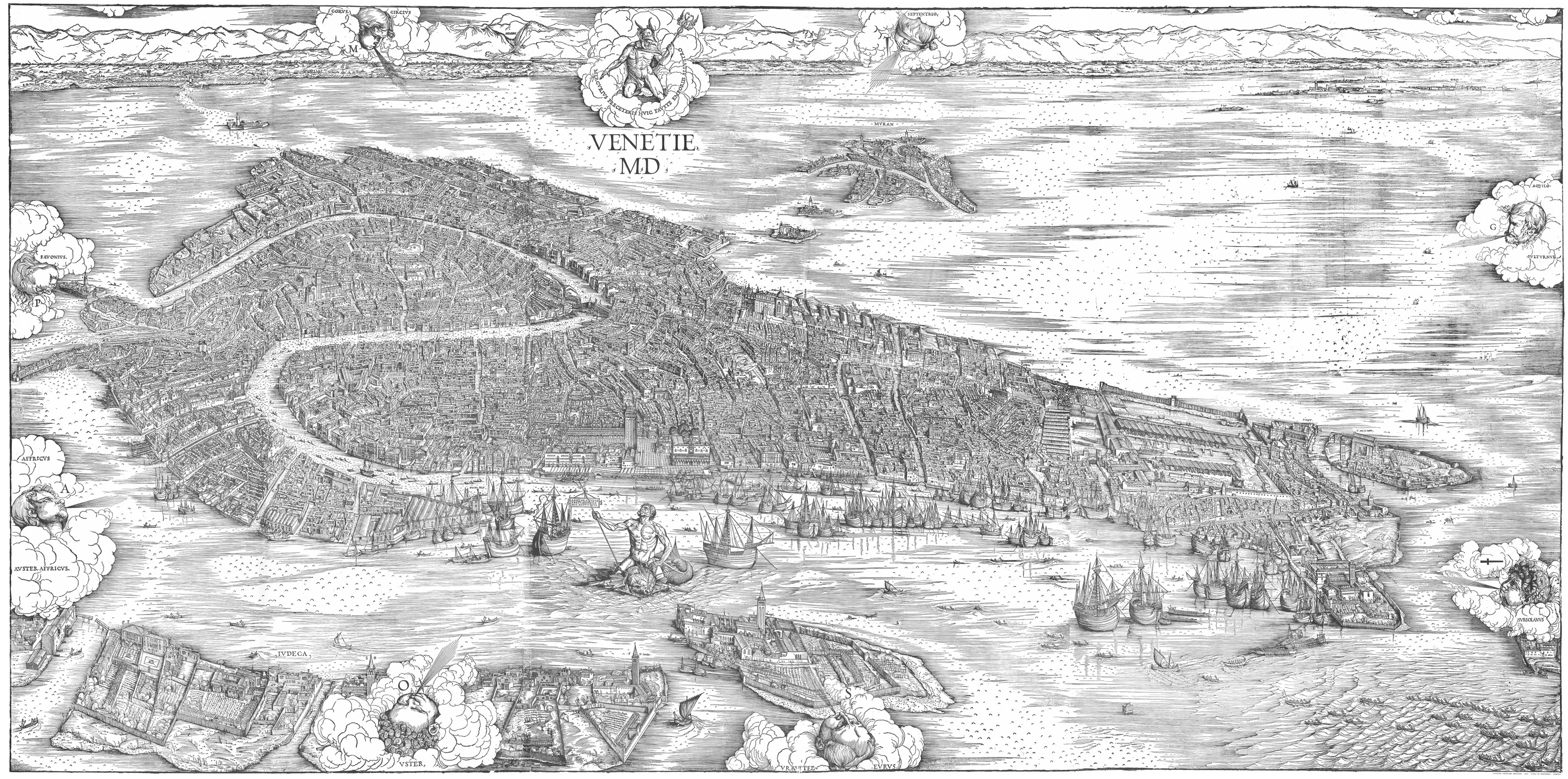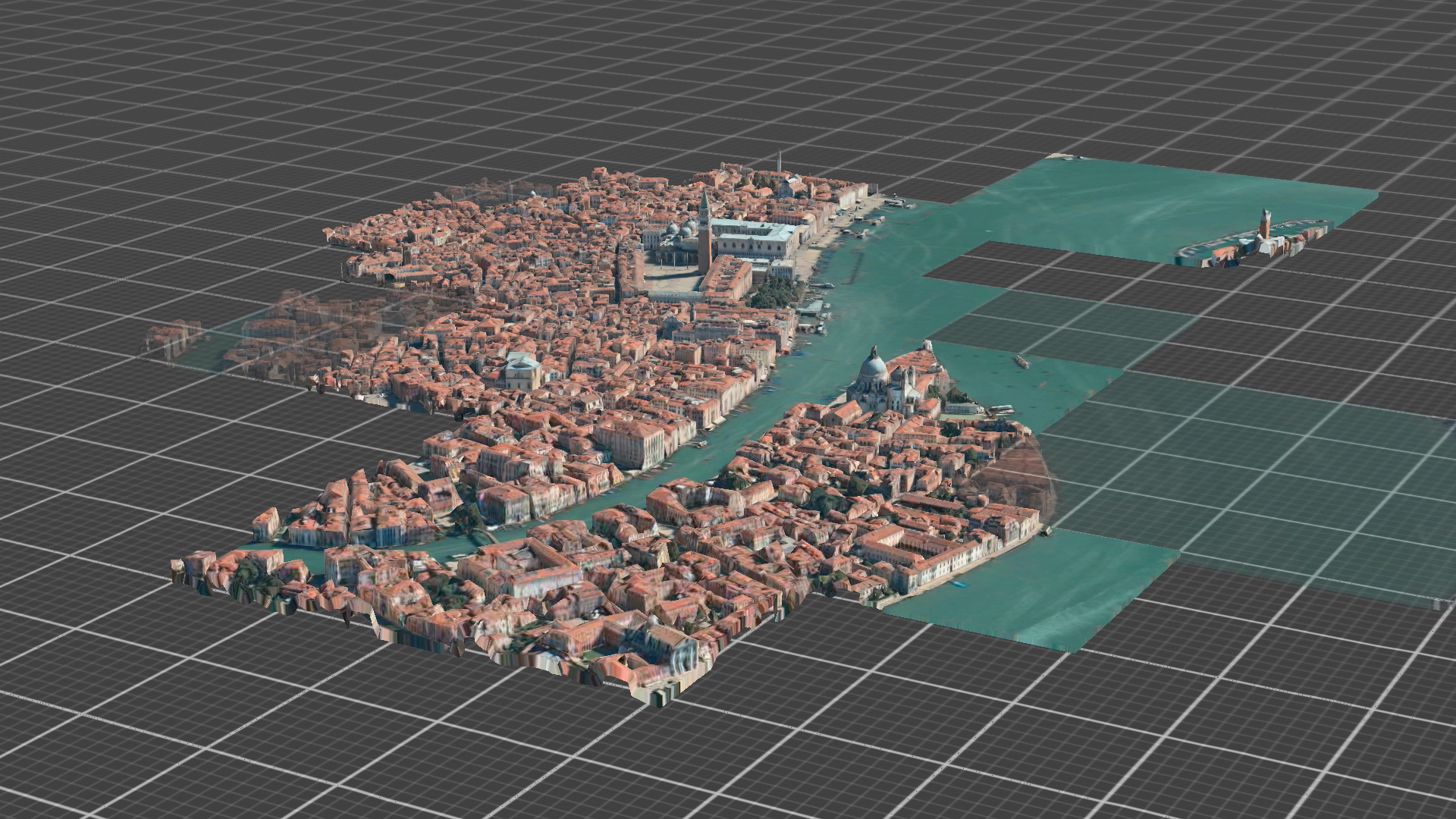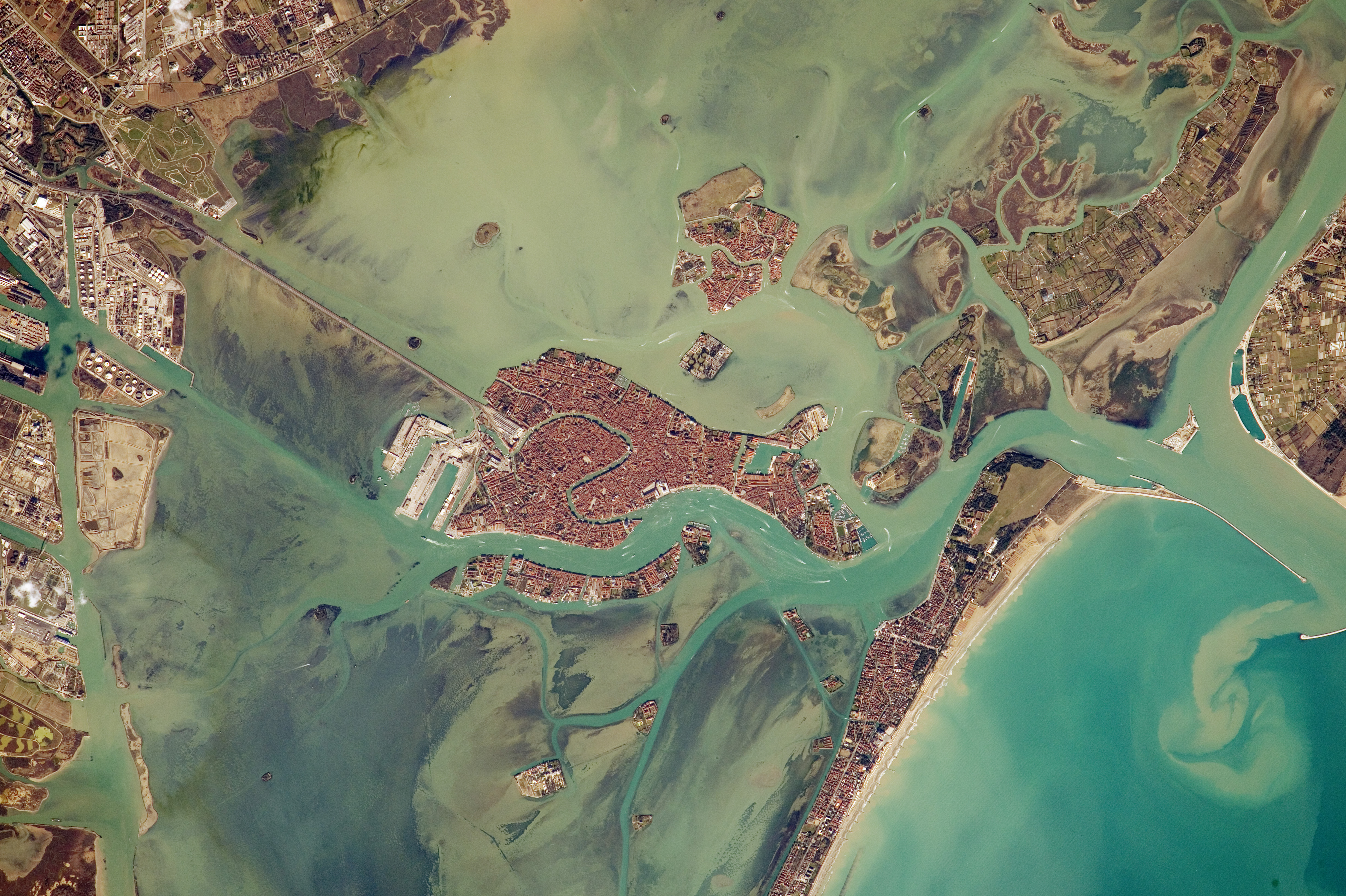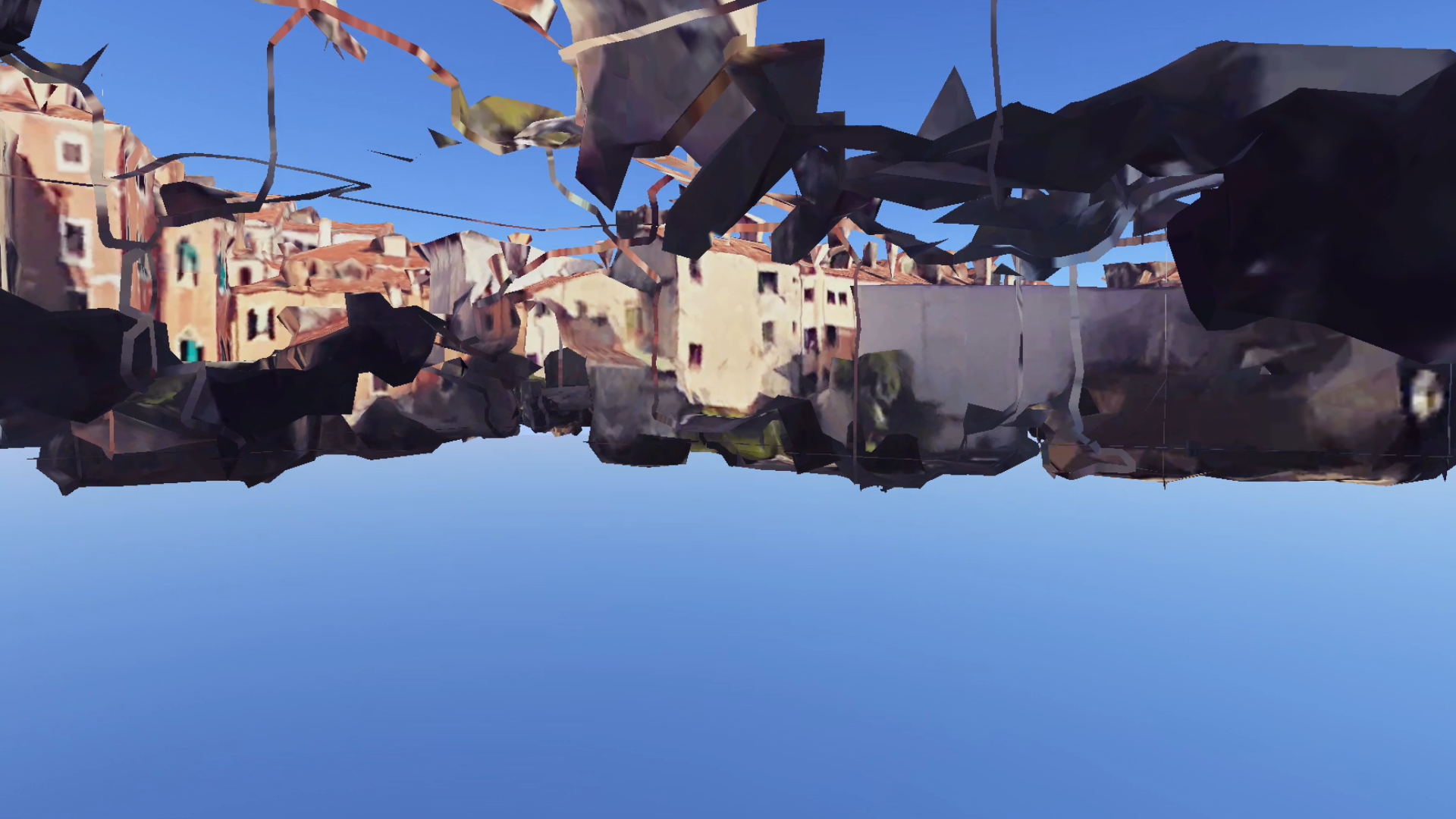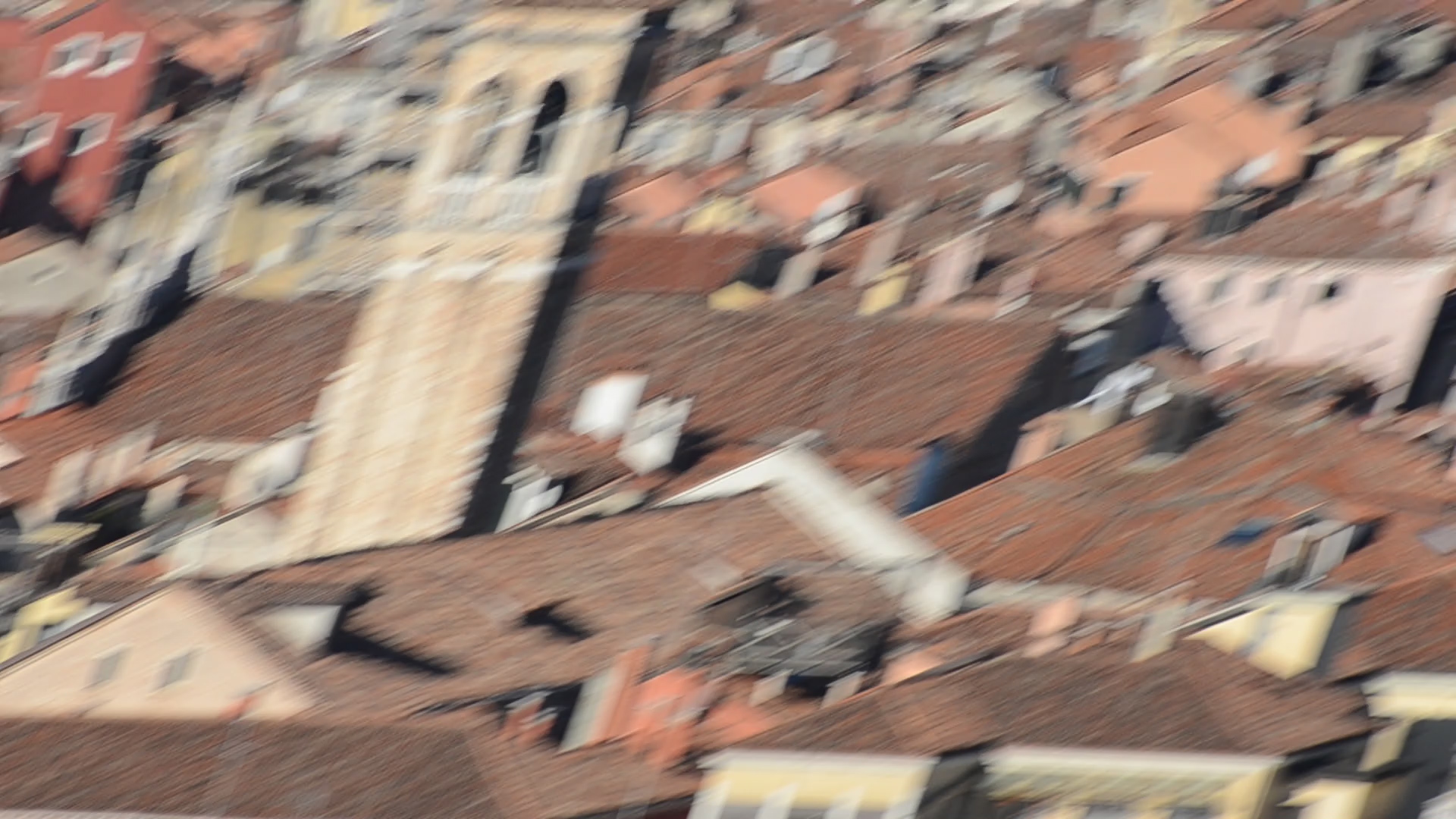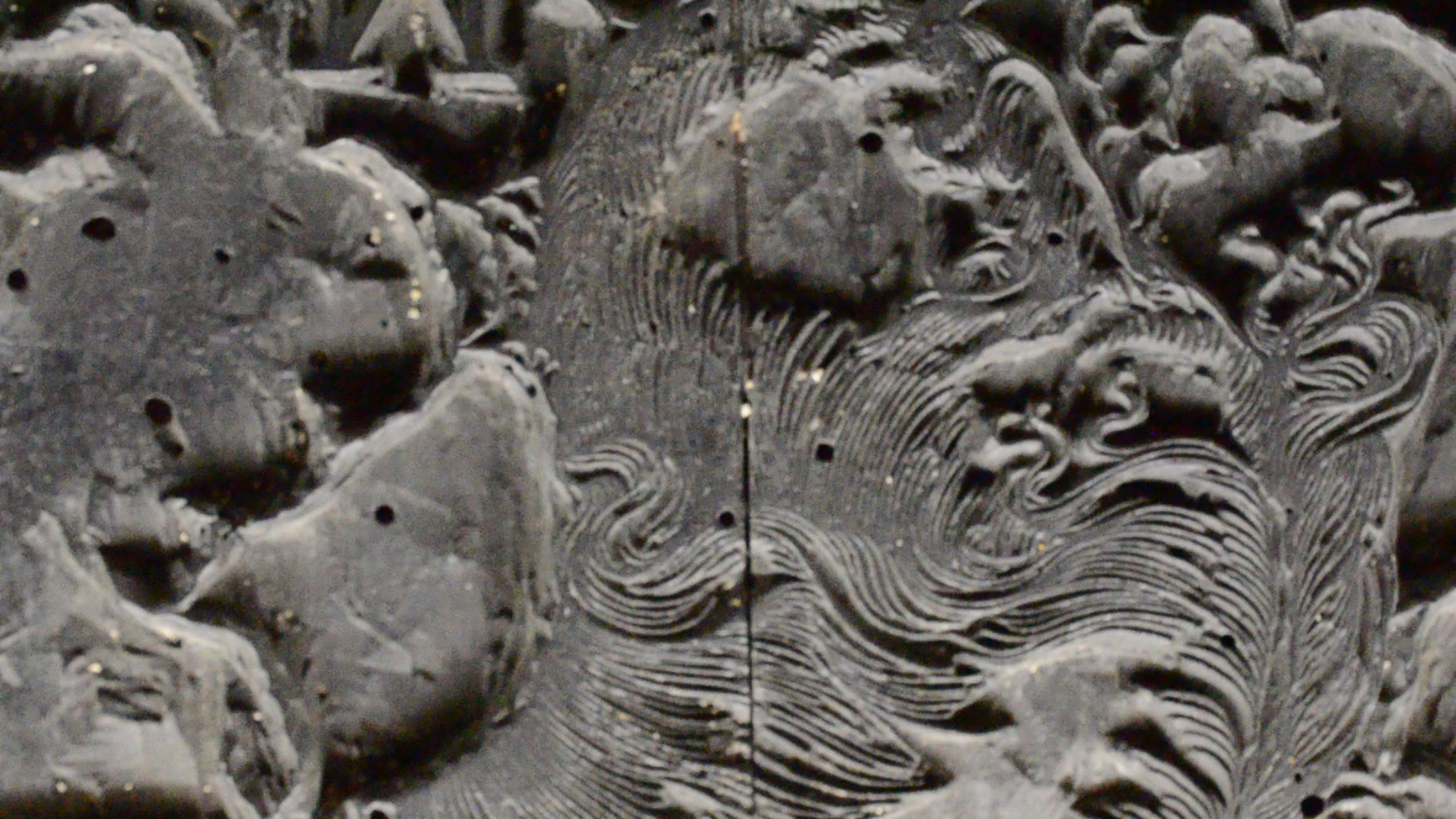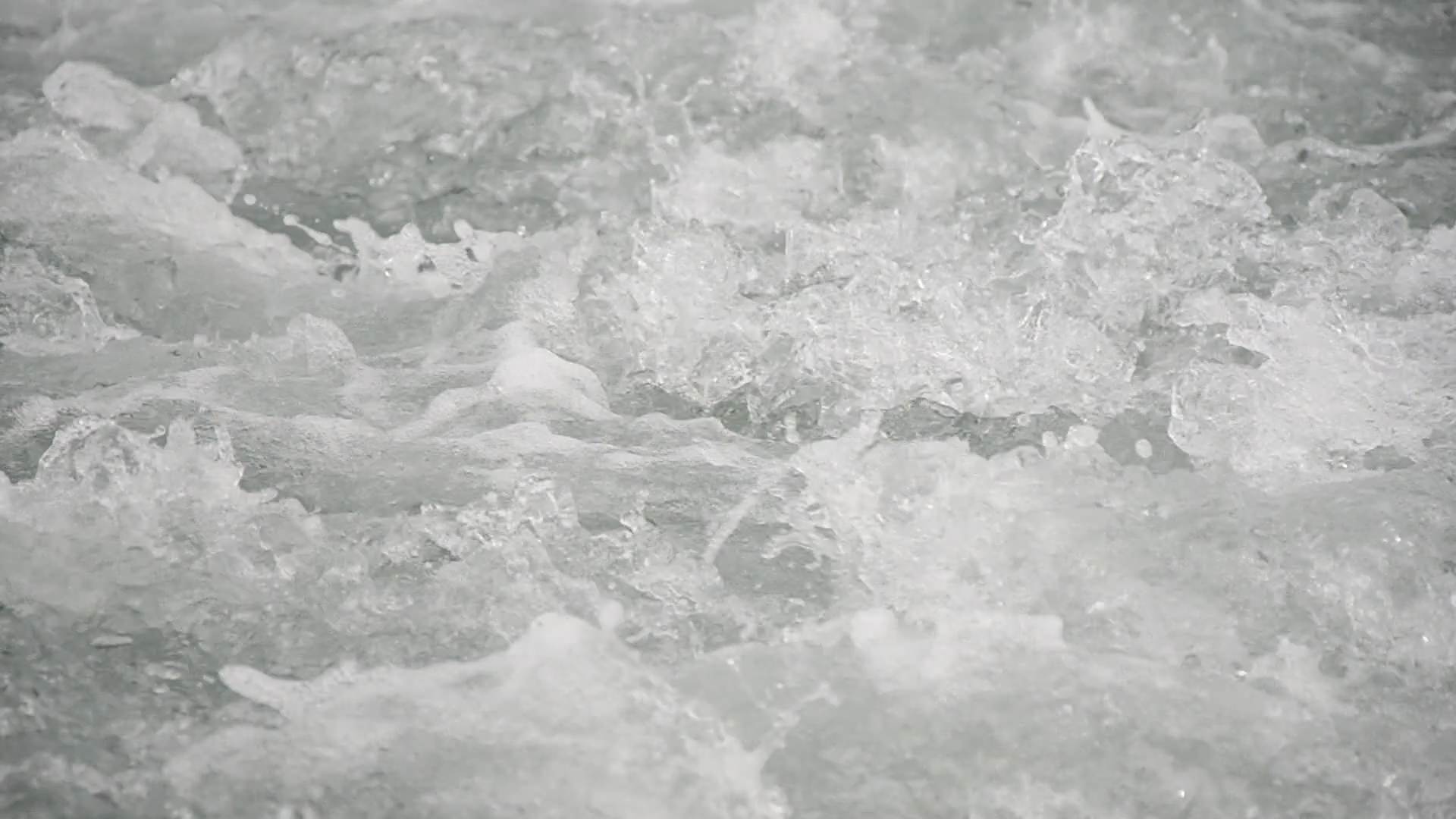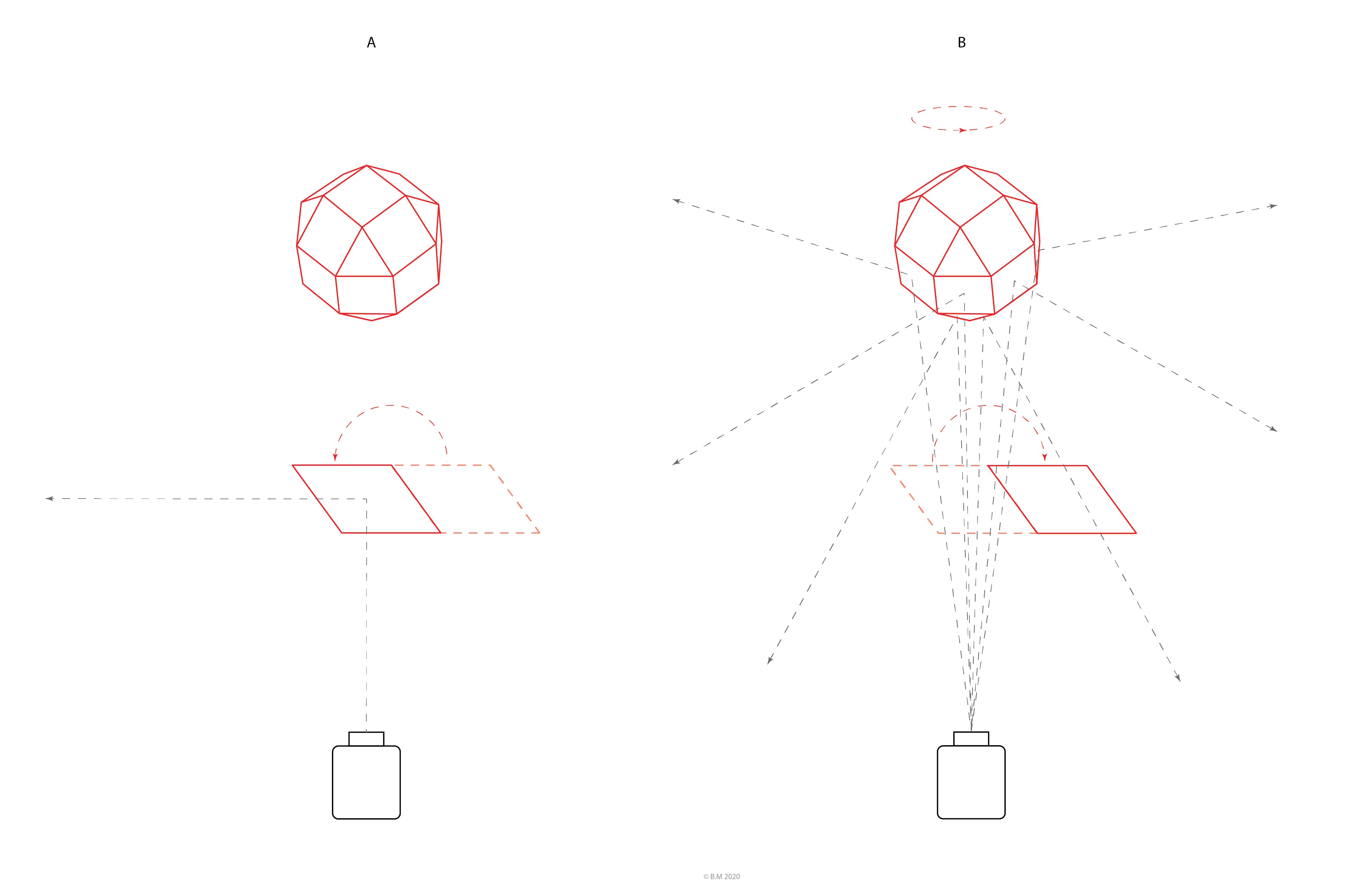 At the center of Bull.Miletic's installation Venetie 1111100110, is the cartographic masterpiece Venetie MD (View of Venice 1500), a large-scale woodcut attributed to the workshop of the celebrated Italian artist Jacopo de' Barbari. As a significant leap in technological accomplishment, Bull.Miletic considered de' Barbari's 500-year-old map to be an astonishing example of an early trace of proxistant vision. It sets one's mind in motion between detail and overview in its presentation of multiple perspectives on the same plane, producing a vision that summons both totality and close-up simultaneously.
In their investigation, the artists found several relationships between this early map and the current digital paradigm of proxistance as exemplified by Google Earth and other digital maps. Recent research has shown that Venetie MD was assembled from multiple vantage points within the city. The making of the map is assumed to have entailed a small "army" of surveyors. Utilizing the perspective techniques of the time, these helpers may have used triangulation techniques, recording both street-view details and the multiple, partial overviews from the city's 103 bell towers.
These details from ground level and elevated perspectives, recorded by the assistant drafters, were combined in de' Barbari's workshop. This is similar to how digital maps operate today, where different bits and pieces come together to be arranged in a coherent flythrough 3D-rendering.
The new life of de' Barbari's map as a digital interface further attested to such a comparative mode. The online version of Venetie MD, found on the Venice Project Center's website, is a composite of the 14,196 discrete image tiles that make up de' Barbari's digitally encoded map. These tiles are arranged in a grid with a computer algorithm similar to the contemporary digital maps.
What the artists additionally discovered was a "bug" (an infinitesimal error in the code) that produced a "defective" pattern within the map's spatial logic. When they selected a view to download and print, they received a scrambled view where the 14,196 image tiles were wrongly distributed, producing a scrambled map. This event evoked the instability of networked digital archives, "whose material structure is that of vectoral dynamics and electromagnetic fields," as Art Historian Ina Blom articulated.
Bull.Miletic wanted to bring attention to the instability of such a storage principle, which in fact points back to the instability of the decaying city of Venice itself: a cultural archive in its own right. In the desperate effort to keep up its virtual image, the city of Venice is in a constant process of preservation against the natural forces that threaten its 500-year-old face against the rising ocean tides and global tourism.
While focusing on this historical representation of proxistant vision in their video Venetie 11111100110, Bull.Miletic also combines a myriad of more contemporary aerial views of Venice from the Fotopiano archives of the late 1970s to the digital 3D flyovers popularized by Google Earth; from aerial views of the dense urban fabric embroidered with a network of canals to tight close-ups of the meeting points between the urban facades and its rising water lines.
As the video in this installation zooms in and out from various vantage points across 21st century Venice, the artists also wanted to create a sense of the current environmental crisis Venice is experiencing, to illustrate that the rising water level is just one of the destructive forces to which the city has been exposed for centuries.
In order to additionally point out the assemblage of fragments that underpins proxistance across both digital and historical maps, the video in the installation alternates between appearing conventionally on the wall and being scattered around the room as a myriad of fragments. This is done using a specially designed, robotic mechanism that allows the video projection to periodically hit a mirrored rhombicuboctahedron, an Archimedean solid with eight triangular and eighteen square faces, inspired by the one featured in de' Barbari's famous 1495 portrait of Luca Pacioli.
As the video transitions between the physical 3D map carved out of the pearwood blocks and the 3D animated google map of Venice, it exposes glitches and imperfections in both representations.
Bull.Miletic's primary intention was to give Venice a new material life as a distributed network of changing configurations, using a 500-year-old map as a starting point, to address urgent questions related to new connections between digital archiving and the material weathering of this unique city married to the sea. With their navigational approach in this project, Bull.Miletic investigated how a proxistant vision was made 500 years ago, which also gave them insight into how such vision operates by exponential powers today.
Torbjørn Helgesen Nordvik and Jens Brynildsen at Bitraf, Oslo made significant contributions to mechanical and electronic engineering.
The prototypes of Venetie 11111100110 were exhibited at the 2nd Research Pavilion at the 57th Venice Biennale and at Anglim Gilbert Gallery in 2017.